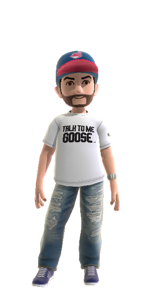 The short version: on Xbox Live, the online network that allows you to play games and connect with friends via your Xbox 360 over the internet, you have an avatar. This avatar is a digital representation of yourself and is actually used in some games to represent your character. For example, in Guitar Hero 5, my avatar is on stage rocking out with a bass guitar (along with Magdalena, and any other friends I might be playing with).
With the introduction of avatars a few years ago, Microsoft gave users the ability to customize not only the physical appearance (sex, face, height etc) but also let you dress for success. You'll notice that my avatar has a beard and kinda looks like me, and wears a Cleveland Indians hat, jeans Adidas sneakers and a black hoodie. Or, if you're viewing this after September 15th, 2010, I could be wearing something entirely different. That's also important to note: I actually take the time to change how I look online if I get bored, or no longer think that my mini-me represents me accurately anymore. According to the last paragraph in Randy's excellent article about the Avatar Marketplace, he does the same thing too. I bet a fair few people do.
Here's my idea, which is actually two ideas rolled into one. I would like the ability to dress my avatar how I like, then click a button and purchase those clothes in real life. Conversely, I'd like to buy some new Girls Clothing in real life, and receive an Xbox code that I can use to unlock the digital equivalent online.
Considering Microsoft have arrangements with a lot of recognized brands already, including Adidas, Quicksilver, Diesel, Burton and Roxy, as well as the facilities to enable online trade (with both real currency and Microsoft Points, the online currency used within Live for micro-transactions), it wouldn't be much of a leap to connect these up.